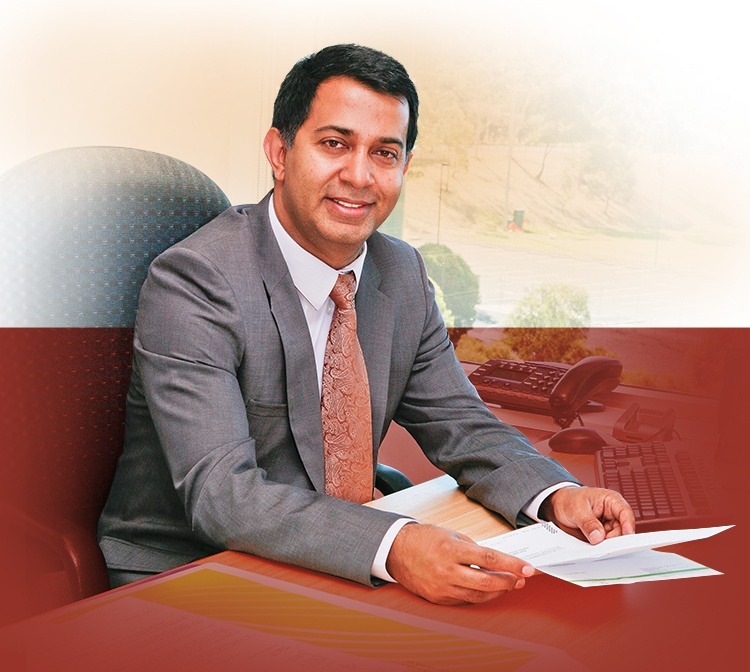 Dr. Santosh Isaac Poonnoose
Neurosurgeon, MBBS, FRACS
Senior Consultant, Flinders Medical Centre, Adelaide, South Australia
Clinical Focus
Dr Poonnoose is in private practice, consulting from rooms at Southern Neurosurgery. Dr Poonnoose's current clinical duties include equal parts of cranial and spinal surgery including:
Skull Base Surgery,
Advanced Spinal Surgery
Minimally Invasive Spinal Surgery.
Epilepsy Surgery
Advanced Cranial
1992
Bachelor of Medicine and Surgery (MBBS)
Christian Medical College (Madras University), Vellore, India
2001
Master of Chirurgy (MCh) Neurosurgery, Section of Neurosurgery, Department of Neurological Sciences
Christian Medical College Hospital (Madras University), Vellore, India
2008
Fellow of the Royal Australasian College of Surgeons
Medical Board of South Australia - Registration No: 17496
Currently, in addition to his current clinical duties at Flinders Medical Centre, Dr Poonnoose has clinical training and administrative roles. These teaching roles involve the training of a Spinal Fellow and a Neurosurgical trainee.
Additional teaching and supervision of junior medical doctors and medical students during their neurosurgical rotation.
As a medical administrator, Dr Poonnoose is involved with the development and implementation of clinical guidelines, development of protocols, conducting a peer review and audit activities.
Dr Poonnoose also supports the collection of clinical data for benchmarking and quality assurance.
Management of chronic subdural haematomas
Anterior cervical discectomy and fusion
Management of spine trauma
Craniotomy
External Ventricular drainage
Lumbar fusion
Trans sphenoidal
1992 - 1993
Rotating Internship
(Medicine, Surgery, Obstetrics and Gynaecology, Community Health)
1993 - 1994
Demonstrator in Clinical Pathology
In charge of the HLA section for bone marrow and renal transplant
1994 - 1995
Demonstrator in Anatomy (Neuro-Anatomy)
Teaching post for the training of undergraduate Medical students, Nursing and MSc Anatomy students
1995
Registrar in Neurosurgery
Christian Medical College, Vellore, India a 1700 bed tertiary care teaching hospital in South India which has been established for over 100 years and is consistently ranked amongst the top institutes in India for patient care as well as for academic and research activities.
1996 - 2001
Neurosurgery Residency Programme
Christian Medical College, Vellore, India as a Lecturer/Consultant in the Department of Neurological Sciences for three years.
This department consists of three clinical units and three research units, including Neurophysiology, Neurochemistry and Neuropathology units. In each surgical unit, approximately 200 outpatients are seen each week with an average of 40 in patients treated.
Each surgical unit has a dedicated operating theatre running five days per week with an average of 12 elective and 5 emergency procedures performed per week. During this period I had extensive exposure to a high volume of advanced cranial surgery and basic spinal surgery exposure.
2001 - 2004
Consultant
Christian Medical College, Vellore, India
2004 - 2006
Senior Registrar, Neurosurgery
Flinders Medical Centre, Bedford Park South Australia
2006 - 2008
Senior Medical Practitioner, Department of Neurosurgery
Flinders Medical Centre, Bedford Park, South Australia
Jan, 2009 - June 2009
Consultant Neurosurgeon
Royal Brisbane Hospital, Brisbane, Queensland
July 2009 to present
Consultant Neurosurgeon
Department of Neurosurgery, Flinders Medical Centre, Bedford Park, South Australia
Best Paper Award in Neurology at the 49th Annual Conference of the Neurological Society of India held at Chennai - "Clinical and radiological response of histologically proven intracranial tuberculoma to ATT
Poonnoose SI, Daniel RT. Radiological evidence of glioma invasion of the central nervous system along tracts.Surg Neurol. 2000 Aug;54(2):194-6
Santosh IP, Rajshekhar V. Galactorrhea as the sole presenting symptom of a posterior third ventricular epidermoid cyst. Surg Neurol. 2001 Jan;55(1):46-9; discussion 49
Poonnoose SI, Rajshekhar V. Rate of resolution of histologically proven intracranial tuberculoma. Neurosurgery. 2003 Oct;53(4):873-8; discussion 878-9
Poonnoose SI, Singh S, Rajshekhar V. Giant Cerebellar tuberculoma mimicking a malignant tumour. Case report and review of the literature. Neuroradiology. 2004 Feb;46(2):136-9. Epub 2004 Jan 9
Shah KC, Poonnoose SI, George R, Jacob M, Rajshekhar V. Necrobiotic xanthogranuloma with cutaneous and cerebral manifestation. Case report and review of the literature. J Neurosurg. 2004 Jun;100(6):1111-4
Poonnoose Si, Manjooran RP, Mathew J, Ramachandran P. Chronic subdural haematoma associated with nontraumatic CSF rhinorrhea: a management challenge. Case report and review of the literature. J Clin Neurosci. 2007 Mar;14(3):281-3. Epub 2006 Feb 28
Kumar GS, Poonnoose Si, Chacko AG, Rajshekhar V. Trigonal Cavernous angiomas: report of three cases and review of the literature. Surg Neurol. 2006 Apr;65(4):367-71, discussion 371
Noman Zaheer S, Byrne ST, Poonnoose SI, Vrodos NJ. Brown Tumour of the Spine in a Haemodialysis Patient. J Clin Neurosci. 2009 Sep;16(9):1230-2. doi: 10.1016/j.jocn.2008.11.009. Epub 2009 Jun 7.
Byrne ST, McDonald MJ, Poonnoose SI. 10 year follow up of a patient with Rendu-Osler-Weber syndrome and recurrent cerebral abscess secondary to pulmonary AV fistula. J Clin Neurosci. 2009 Aug;16(8):1095-6. doi: 10.1016/j.jocn.2008.08.019. Epub 2009 May 9.
J Clin Neurosci. 2012 Sep;19(9):1291-3. doi: 10.1016/j.jocn.2011.12.012. Epub 2012 Jun 20. Kyphoplasty as a useful technique for complicated haemangiomas. Moore JM, Poonnoose S, McDonald M.
The clinical and radiological response of histologically proven intracranial tuberculoma to ATT.
Presented at the Annual Neurological Society of India (NSI) conference, 2000
Medulloblastomas: The Vellore experience.
Presented at the Paediatric Neurosurgery Conference, 2001
Paediatric Craniopharyngioma: The Vellore experience.
Presented at the Annual NSI conference, 2001
Split cord malformation: Surgical outcome.
Presented at the Annual NSI conference, 2002