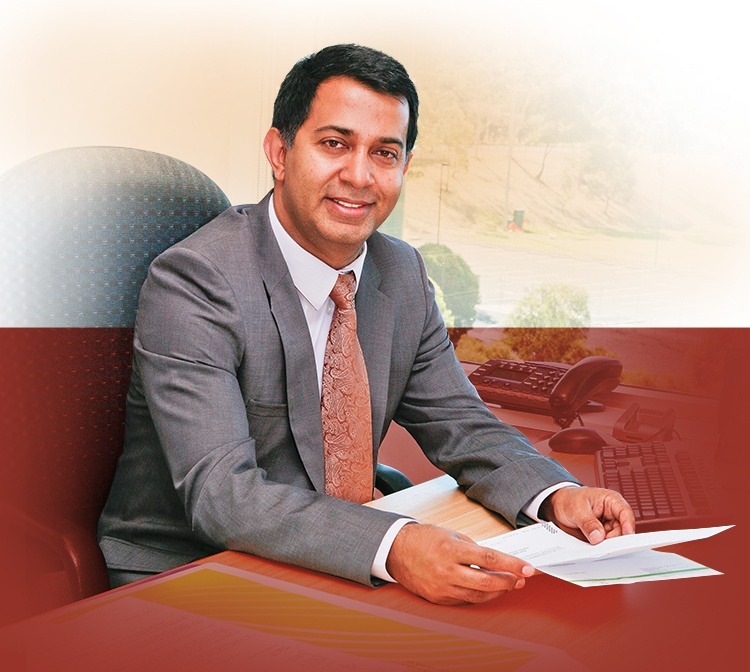 Dr. Santosh Isaac Poonnoose
Neurosurgeon, MBBS,MCH, FRACS
Calvary Adelaide Hospital & Flinders Medical Centre, Adelaide, South Australia
Clinical Focus
Dr Poonnoose is in private practice consulting from rooms at Calvary Adelaide Hospital and Flinder Private Hospital. Dr Poonnoose's current clinical duties include equal parts of cranial and spinal surgery including:
Skull Base Surgery,
Advanced Spinal Surgery
Minimally Invasive Spinal Surgery.
Epilepsy Surgery
Advanced Cranial
I am a board member of the Neurosurgical Research Foundation and have currently become the NRF Chair of the Scientific Committee.
I am the Director of the South Australian Neurological Tumour Bank.
1992
Bachelor of Medicine and Surgery (MBBS)
Christian Medical College (Madras University), Vellore, India
2001
Master of Chirurgy (MCh) Neurosurgery, Section of Neurosurgery, Department of Neurological Sciences
Christian Medical College Hospital (Madras University), Vellore, India
2008
Fellow of the Royal Australasian College of Surgeons
Medical Board of South Australia - Registration No: 17496
Currently, in addition to his current clinical duties at Calvary Adelaide Hospital and Flinders Medical Centre, Dr Poonnoose has clinical training and administrative roles. These teaching roles involve the training of a Spinal Fellow and a Neurosurgical trainee.
Additional teaching and supervision of junior medical doctors and medical students during their neurosurgical rotation.
As a medical administrator, Dr Poonnoose is involved with the development and implementation of clinical guidelines, development of protocols, conducting a peer review and audit activities.
Dr Poonnoose also supports the collection of clinical data for benchmarking and quality assurance.
Best Paper Award in Neurology at the 49th Annual Conference of the Neurological Society of India held at Chennai - "Clinical and radiological response of histologically proven intracranial tuberculoma to ATT
Jacob CE, Kurien M, Verghese AM, Aleyamma TK, Jasper P, Prabu K, Poonnoose S I. Treatment of Otogenic Abcess in Pregnancy. Otol Neurotol. 2009 Aug;30(5): 602-3.
Shunmugam M, Poonnoose S. Spontaneous atlantoaxial subluxation associated with tonsillitis. Asian J Neurosurg 2015:10:139-4
Su Thet Mon Yingda Li Sarah Shepherd Santosh Daniel Santosh Poonnoose Matthew McDonald. Recurrence of chest wall hydatid cyst disease involving the thoracic spine in an Australian patient. Journal of Clinical Neuroscience Apr 2016 Vol 30: 132-6.
To, M., Prakash, S., Poonnoose, S. and Bihari, S., 2018. Dose-Dependent Effects of Statins for Patients with Aneurysmal Subarachnoid Hemorrhage: Meta-Regression Analysis. World Neurosurgery, 113, pp.153-162.
Candy N, Tsimiklis C, Poonnoose S, Trivedi R. The use of antiepileptic medication in early post traumatic seizure prophylaxis at a single institution. J Clin Neurosci. 2019 Aug 23. pii: S0967-5868(19)30954-3. doi: 10.1016/j.jocn.2019.07.066. [Epub ahead of print] PubMed PMID: 31451375.
Tea, M., Poonnoose, S. and Pitson, S., 2020. Targeting the Sphingolipid System as a Therapeutic Direction for Glioblastoma. Cancers, 12(1), p.111.
Tsimiklis, C., Mascarenhas, A., To, M., Fairley Bishop, C., Jenkinson, F., Hunt, G., Knight, N., Harding, M. and Poonnoose, S., 2020. The benefit of delayed reassessment post high-volume CSF removal in the diagnosis of shunt-responsive idiopathic normal-pressure hydrocephalus. Journal of Clinical Neuroscience, 71, pp.32-38.
Valeie Juniat, Santosh Poonnoose, Dinesh Selva . Orbital compartment syndrome following bicoronal flap and craniotomy for a basifrontal meningioma. J Clin Neurosci 2020 11 26;81:434-435. Epub 2020 Oct 26.
Vanessa M Conn, Marta Gabryelska, Shashikanth Marri, Brett W String, Rebecca J Ormsby, Timothy Penn, Santosh Poonnoose, Ganessan Kichenadasse, Simon J Conn. SRRM4 Expands the repertoire of circular RNAS by regulating microexon inclusion. Cells 2020 11 16;9(11). Epub 2020 Nov 16.
Lisa M Ebert, Wenbo Yu, Tessa Gargett, John Toubia, Paris M Kollis, Melinda N Tea, Brenton W Ebert, Cedric Bardy, Mark Van Den Hurk, Claudine S Bonder, Jim Manavis, Kathleen S Ensbey, Mariana Oksdath Mansilla, Kaitlin G Scheer, Sally L Perrin, Rebecca J Ormsby, Santosh Poonnoose, Barbara Koszyca, Stuart M Pitson, Bryan W Day, Guillermo A Gomez, Michael P Brown. Endothelial, Pericyte and tumour cell expression in glioblastoma identifies fibroblast activation protein (FAP) as an excellent target for immunotherapy. Clin Transl Immunology 2020 14;9(10):e1191. Epub 2020 Oct 14.
Amin Zadeh Shirazi Mark D McDonnell Eric Fornaciari Narjes Sadat Bagherian Kaitlin G Scheer Michael S Samuel Mahdi Yaghoobi Rebecca J Ormsby Santosh Poonnoose Damon J Tumes Guillermo A Gomez. A deep convolutional Neural network for segmentation of whole-slide pathology images identifies Novel tumour cell-perivascular Niche interactions. Br J Cancer 2021 Apr 29. Epub 2021 Apr 29.
Sakthi Lenin Elise Ponthier Kaitlin G Scheer Erica C F Yeo Melinda N Tea Lisa M Ebert Mariana Oksdath Mansilla Santosh Poonnoose Ulrich Baumgartner Bryan W Day Rebecca J Ormsby Stuart M Pitson Guillermo A Gomez. A drug Screening Pipeline Using 2D and 3D Patient-Derived in vitro models for preclinical analysis of therapy response in glioblastoma. Int J Mol Sci 2021 Apr 21;22(9). Epub 2021 Apr 21.
Mariana Oksdath Mansilla Camilo Salazar-Hernandez Sally L Perrin Kaitlin G Scheer Gökhan Cildir John Toubia Kristyna Sedivakova Melinda N Tea Sakthi Lenin Elise Ponthier Erica C F Yeo Vinay Tergaonkar Santosh Poonnoose Rebecca J Ormsby Stuart M Pitson Michael P Brown Lisa M Ebert Guillermo A Gomez. 3D-printed microplate inserts for long term high-resolution imaging of live brain organoids.
The clinical and radiological response of histologically proven intracranial tuberculoma to ATT.
Presented at the Annual Neurological Society of India (NSI) conference, 2000
Medulloblastomas: The Vellore experience.
Presented at the Paediatric Neurosurgery Conference, 2001
Paediatric Craniopharyngioma: The Vellore experience.
Presented at the Annual NSI conference, 2001
Split cord malformation: Surgical outcome.
Presented at the Annual NSI conference, 2002