Showering and toileting and dressing
By the time you go home you should be able to shower and dress yourself.
You may be more comfortable showering in a sitting position. A shower chair can be hired in the short term, discuss this with your nurse or physiotherapist.
When using the toilet, a toilet seat raiser will be used to avoid straining to get up from a low position. This may also be hired for home.
Avoid bending to your feet when washing / drying / dressing. If you are unable to bring your feet to your chest, long-handled aids may be necessary such as a pick up stick, toe wiper or sock aid.
Preparing your home environment
It is important that you are able to get your home environment prepared before you come into hospital for surgery.
The following are some points for you to consider:
Cover slippery surfaces with carpets that are firmly anchored to the floor or have non-slip backing and pick up any throw rugs and tack down loose carpeting.
Beware of all floor hazards such as pets, small children or uneven surfaces that could cause you to lose your balance. If you have small animals it may be advisable to have someone look after them for you in the first few weeks.
Provide good lighting throughout the house and install night lights in bathroom and hallways.
Keep extension cords and telephone lines out of your pathway and don't run wires under rugs or carpets. This can also be a fire hazard.
Do not wear open toe slippers or shoes without backs as they do not provide adequate support, leading to slips and falls.
You will need a chair with arms and a supportive back as this will make it easier for you to get pp.
It is advisable to freeze some meals (either prepared by yourself or purchased meals) in advance for use when you return home. Alternatively the preadmission clinic nurse can advise you on a meal delivery service.
Due to the restrictions on driving you will need someone to help with shopping. You will also require someone who can help with housecleaning, laundry, and to look after the garden over the next 6 weeks. In some cases your local council will be able to offer assistance. A preadmission nurse will also be able to discuss this with you and advise on community services that can assist.
Household activities
Do not perform activities that involve lifting anything heavier than 7 kgs for the first 4 weeks ,for example; shopping bags, heavy saucepans and washing baskets. After this period, you may gradually increase the weight that you lift.
Principles of lifting to decrease the load on your back:
Plan your lift and ensure that you have a clear pathway.
Maintain the natural curves of the spine.
Keep the load close to your body and maintain a wide base of support.
Contract your lower abdomen and pelvic floor muscles gently.
Use your leg muscles to do the lift.
Move your feet to turn around, rather than twisting your back, and always face what you are doing.
Lifting: Correct techniques for both lifting and lowering objects. Avoid activity that involves bending or sustained positions such as cleaning the bath. Avoid duties that involve heavy pushing or pulling such as pushing shopping trolleys, lawn mowers, and vacuuming.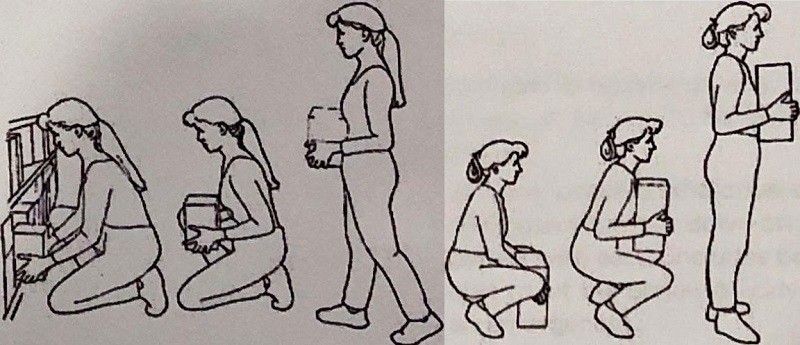 Managing constipation at home
Strong pain relief such as
Oxycodone (Endone) and Panadeine Forte may cause constipation.
Prevent constipation by:
Drinking plenty of water.
Increasing fibre in your diet.
Increasing your exercise in line with your physiotherapist's instructions.
Eating fresh fruit and vegetables.
Using bowel opening medications such as Coloxyl and Senna / Lactulose / Movicol, which can be purchased from the chemist without prescription.
Wound care at home
In most cases you will have a dissolvable stitch and this requires no intervention. In some cases, you may have a non-dissolvable stitch or staples insitu and the date for removing these will be arranged prior to your discharge. They are usually removed on day 7.
In most cases your wound will be left uncovered from Day 3 post-op.
You can get your wound wet in the shower each day. Carefully pat the wound dry.
Contact your surgeon if you notice changes in your wound such as redness, swelling or a discharge.
If there are any variations to these orders as instructed by your surgeon, your discharging nurse will inform you of these orders.
It is normal to bruise around the wound site (this will fade in a couple of weeks).
Managing pain at home
When it comes to effective pain management, the tips you have learned in hospital also work at home. To get the best pain relief possible, remember to use your medication only as directed. If your pain is not relieved or if it gets worse, call your doctor. As pain lessens, try taking your medication less often. You can also use hot packs and relaxation techniques such as deep breathing.
All your discharge medications that you will need for home will be ordered and may be collected from the pharmacy on your discharge from hospital. for you before your hospital discharge.
The pharmacist or your nurse will explain your discharge medications so you clearly understand how to take them.
It is important to take the medication as directed. If you are experiencing increased discomfort and pain that is not being relieved by taking your medications at home, you should inform your GP or surgeon.
In most cases you will need to pay for your discharge medications as they are not covered by private health insurers.
Driving
To be able to resume driving, you will need to be able to achieve the following:
Sit comfortably in the driver's seat and push your feet down on the pedals with ease (includes being able to hit the brakes quickly in an emergency).
Move the steering wheel vigorously as if to avoid a collision and check your blind spots comfortably.
When you can do these things comfortably, you are able to recommence driving at your discretion, but if you're unclear regarding your safety or ability, discuss it further with your surgeon. You will also need to check that your insurance policy does not preclude you from driving postoperatively.
If travelling for long periods, stop regularly to get out and walk around.
A back support may help when sitting in the car to maintain your lumbar curve and optimise comfort.
Spine Procedures